Description
EOS 1500D Kit (EF S18-55 IS II)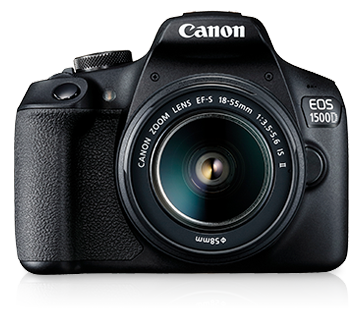 24.1-megapixel high-resolution camera for beautiful pictures
All camera users, even beginners, will be able to capture amazing images and movies with this DSLR camera, which is equipped with a 24.1-megapixel APS-C-size CMOS sensor and an optical viewfinder for an authentic DSLR shooting experience. Capturing sharp images is easy thanks to the fast, accurate AF and the large grip that provides a firm, steady hold on the camera. Built-in Wi-Fi / NFC connectivity enables the seamless upload of photos and videos to social media.
24.1MP APS-C CMOS sensor & DIGIC 4+ image processor
9-point AF with 1 centre cross-type AF pointStandard
ISO 100 - 6400 (expandable to 12800)
Wi-Fi / NFC supported
---
EOS 3000D Kit (EF S18-55 III)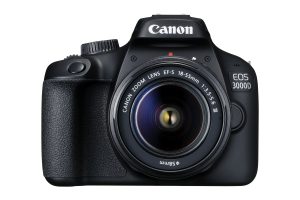 Simply for first-time DSLR user
Equipped with a grip that allows a steady hold on the camera, an optical viewfinder that enables the quick capture of fleeting moments, and a main dial for quick function switching, the EOS 3000D offers new camera users the quintessential DSLR experience. The 18-megapixel APS-C-size CMOS sensor is about 25 times larger than the sensor used in smartphone cameras. This allows it to capture more light and detail in images, and also contributes to the ability to achieve a beautiful background blur. Image information is quickly processed by the DIGIC 4+ image processor, resulting in high-resolution, high-quality output. Small and lightweight at approximately 436g (including battery and memory card), this is one camera that is also ideal for travel.
18-megapixel APS-C-size CMOS sensor & DIGIC 4+ image processor
9-point AF with 1 centre cross-type AF point
Standard ISO 100 - 6400 (expandable to 12800)
Wi-Fi supported