Description
Show the world what you're made of.

Some people are happy to take pictures from the comfort of the sidelines. That's nice. But if you want to be part of the action, you need a camera as tough as you. For those thrill seekers and action-hounds, meet the COOLPIX W300, a tough-as-nails camera designed for the extremes. Waterproof, freezeproof, shockproof and dustproof, it captures 4K Ultra HD video, 16 MP photos, time-lapse movies and more in the harshest conditions. Bring it surfing, skiing, SCUBA diving, biking, climbing...wherever your adventures lead. Use the built-in GPS, eCompass, altimeter, Wi-Fi® and Bluetooth® Low Energy to track and share every heart-pounding moment. Show the world what you're really made of.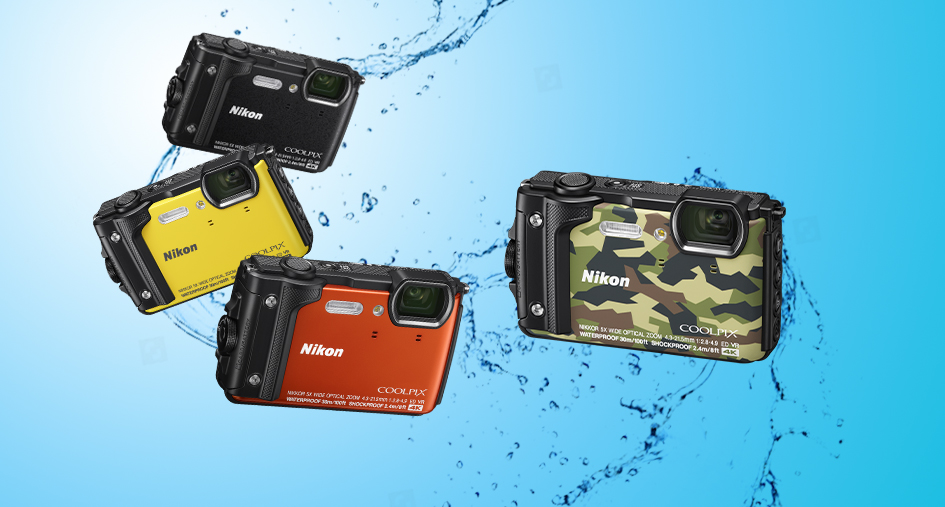 Whether it be a thrilling diving expedition, or a relaxing holiday by the beach, the COOLPIX W300 is here to capture it all. Waterproof, shockproof, cold-resistant, and dustproof, the COOLPIX W300 will preserve all your moments in stunning clarity with its 16.05-megapixel back-illuminated CMOS sensor and 4K UHD video capabilities. No matter where you are, stay constantly connected with SnapBridge to keep your friends and family up to date with your adventures.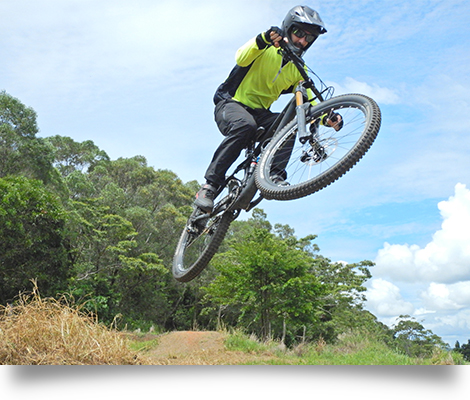 RUGGED AND RELIABLE
Wherever your wanderlust may lead, the COOLPIX W300 is ready to perform, on land or at sea. Waterproof to a depth of 30m, shockproof from a height of 2.4m, cold-resistant down to -10°C and dustproof, the COOLPIX W300 can easily keep pace with any adventure.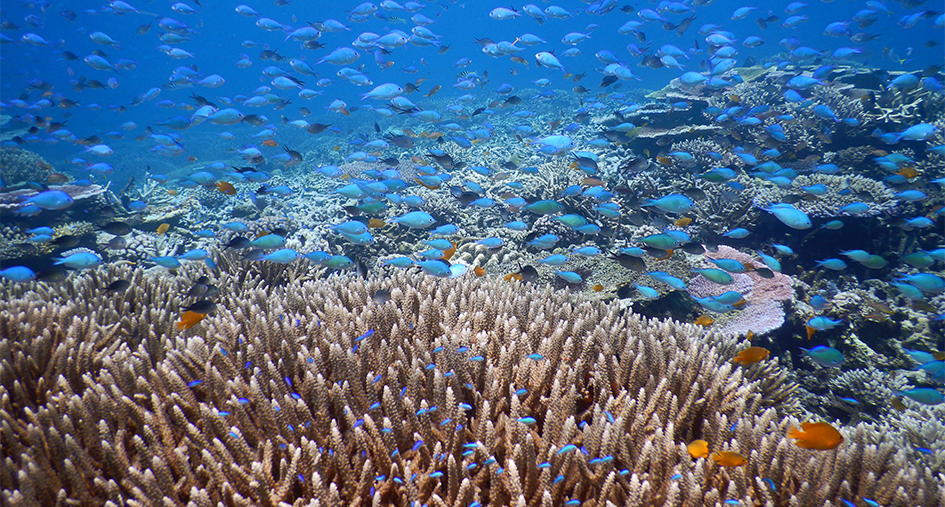 STUNNING SHOTS ON LAND OR SEA
Capture anything and everything in stunning resolution with the Nikon Coolpix W300. Its 16.05-megapixel back-illuminated CMOS sensor delivers brilliantly and sharp images, while a fast f/2.8 wide-angle NIKKOR lens with x5 optical zoom and x10 dynamic fine zoom gives you the power to get close to all the action. You can even capture detailed macro shots in sharp focus from just  1 cm away.
RELIVE YOUR MEMORIES IN UHD
With just a touch of a button, the COOLPIX W300 will record your experiences in stunning 4K UHD/30p cinematic quality. Capture scenes in vivid clarity, even underwater, thanks to its 5-axis Vibration Reduction that helps to ensure sharp and smooth scenes, and the new AE lock feature that balances exposure when shooting in erratic lighting conditions. Indulge your creative side by creating fast-motion videos in Time-lapse mode and the new Superlapse movie mode.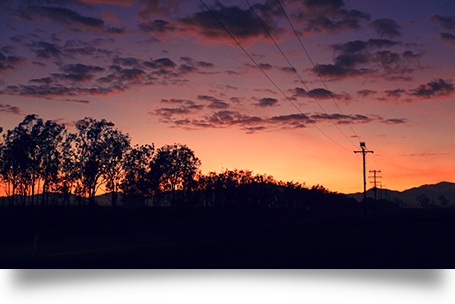 ADD A PERSONAL TOUCH
Personalise your shots with Creative Mode. Simply select from a vast array of preset effects and let the COOLPIX W300 do the rest. To create more eye-catching images, choose from eight different types of Quick Effects such as fisheye, miniature effect, and painting.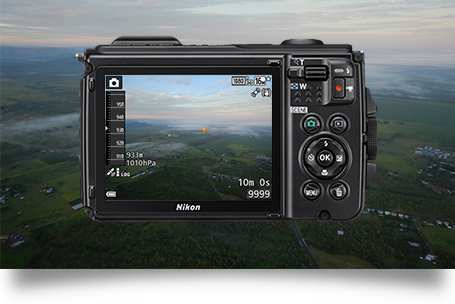 MAP OUT YOUR ADVENTURES
Keep track of the all the amazing destinations you visit. The COOLPIX W300 features a built-in altimeter and depth gauge for atmospheric and water pressure readings. Retrace your steps with the built-in GPS, GLONASS, and QZSS, that capture data to pinpoint the location of each shot – all easily accessed with a simple touch of the Tool button on the side of the COOLPIX W300.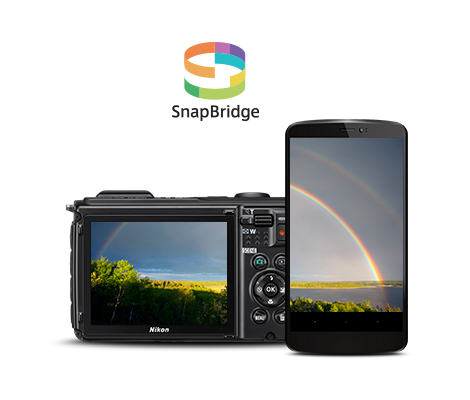 SHOOT AND SHARE
Share your best shots with SnapBridge, a new feature that automatically downloads your images to your smart device via a constant Bluetooth Low Energy (BLE) connection. Once SnapBridge application is installed, you can easily activate the camera's built-in Wi-Fi*11 for wireless image transfer on compatible smart devices by using the SnapBridge application. BLE maintains constant connection with minimal power, so you can continue shooting and sharing without draining your batteries too quickly. SnapBridge also allows your smart device to access your camera, even when the camera is switched off. It even automatically archives your pictures onto Nikon Image Space.
SnapBridge is now available for download on Google Play™ for Android™. See the App Store® for the latest information on camera firmware compatible with the iOS version of the SnapBridge app.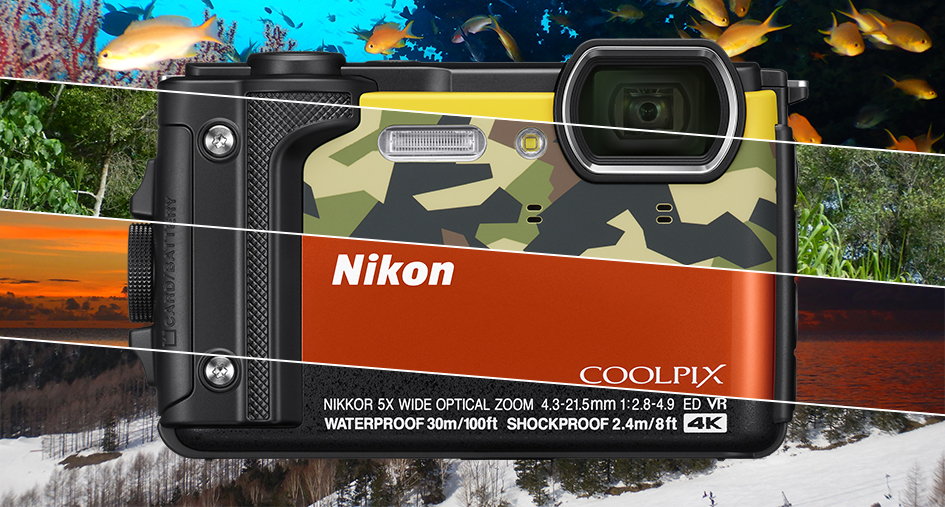 MADE TO MEASURE UP
The COOLPIX W300 is available in a wide range of colours to suit your personality. Weighing approximately 231g and measuring 111.5mm (width) x 66.0mm (height) x 29.0mm (depth), the COOLPIX W300 is ergonomically designed to fit into the palm of your hand. Its 3.0-in TFT monitor ensures superior visibility with minimal reflection even in bright outdoor conditions, while an added LED light button will help you illuminate surrounding areas when you're shooting in the dark.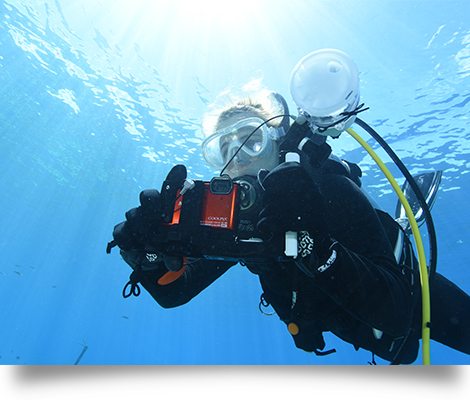 GO FURTHER
Illuminate the darkness of the deep blue sea with an array of optical accessories, such as the Underwater Speedlight. For added protection, the silicon jacket will protect the camera body from any scratches, so you can capture all of your exciting adventures with the COOLPIX W300 without a worry.