Photo Op Photographer Spotlight
Although it is often said that those who can't do teach, but there is no truth behind that adage in the case of our Photo-Op Spotlight Photographer for this round – Andy Samaniego. Having roots in managing a local Kodak dealership with his brother, his interest in photography was sparked by being involved in the business, learning the ropes along the way, and being able to handle a Nikon F80, a film camera that paved the way to who he is today, a successful professional photographer and educator.
He also became a Marketing Consultant for Homeschool TV, an online video channel featuring homeschooling families and other related content. This led to the move to join Homeschool Global full-time as their Marketing and Production Head and then Director of Events, where he was able to apply his knowledge and years of experience in the events and production industry. Today, he continues to expand his professional portfolio into video production and social media management consultancies.
As a man who juggles numerous hats – photographer, educator, and consultant, among others, is no easy feat. But we at Photo-Op have pulled through and we had a brief opportunity to interview him. We initially asked him, being a photographer with many creative pursuits, what genre does he specialize in. He succinctly answers, "I specialize in portraits and products, and my favorite subjects to shoot are people. Every person is unique and has a story to tell, and when you capture that character and emotion in a photograph, it warms the heart and gives your clients a wonderful memory."

Taken with Nikon D300, Nikon 17-55mm f/2.8 lens
Taken with Nikon D300, Nikon 17-55mm f/2.8 lens
When asked what the best thing is about being a photographer, he shares with us, "What I most enjoy about being a photographer is meeting new people while being able to travel and have unique experiences in these new locations. I also enjoy engaging with my clients, getting to know them better, and even learning from them as we chat about family, work, and life in general." Photography is indeed a social activity, and Andy truly embodies this fact of his career.
As a photographer, he believes that having a fundamental knowledge of lighting is tantamount to being an effective lensman. "I mean, that's where photography got its name," he humorously adds. The impact of your photo on your viewers and the concept behind it is also something that a photographer should mull about.
When asked what inspires him to take photos, Andy shares, "They're the subjects that I shoot of course. If they move me or I can relate to it, I press the shutter. In the case of portraiture, giving a photograph to a person means you are giving something of value to them, something that is appreciated, and it is part of making memories."
Being a photographer for the good part of nearly two decades, Andy has truly imbibed the photographer's lifestyle. He shares that "photography motivates me to constantly learn and innovate myself, especially my skillset, push the envelope of my techniques, and encourage me to further my abilities. It drives me to be more creative, competitive, and brings out the best in me."
A highly respected professional in the industry, Andy sure does have a lot of experience while on a shoot but one shoot he fondly recounts to us was when a client kept on thanking him constantly for days after the event, appreciating the photos he took.
He shares, "Normally I get a couple of 'thank you's, but this client expressed her gratefulness many times. It's certainly very encouraging to hear that your work was highly valued and cherished by the clients you are serving."
Taken with Nikon Z7, Nikon 85mm f/1.8 S
What's in your bag?
I used to carry the Nikon D7500 with me and I upgraded to the Nikon Z50 earlier this year as I found myself doing more video work.
I also narrowed down my set up as I approached more studio work.
The Z50 is super light and compact, it lets me carry it around everywhere without being too flashy, I can also vlog around with it whenever I want to which is also why I carry around my 16-50mm f/3.5 – 6.3 Z lens. It's really super versatile and that extra 2mm from the usual 18mm is something.
I also always have my FTZ adaptor together with my AF-S Nikkor 50mm 1.4G for the sharpest of images and those buttery, bokehlicious photos. It's really perfect for portraits and I also often use it for creative product photos and video. And of course, some extra batteries since you can never have enough of them especially outside and when you're also shooting lots of video.
The Philippine photography industry should indeed be a lookout for what Andy Samaniego puts out next, whether it be another glamorous portrait shoot or flawless product photograph, one thing is for sure, as a man who continues to innovate himself, his output is better than his last.

CONTACT DETAILS
Tao Corporate Center
13 J. Cruz St. Brgy. Ugong
Pasig City
Landline: (02) 8836-5899
Monday - Friday
9AM - 3PM
Mobile (Smart): +63 968 4494731
Mobile (Globe): +63 977 6269859
Viber: +63 977 6269859
(Monday to Friday from 8am to 5pm)

NAVIGATION

Copyright © 2021 ThinkDharma, Inc. All Rights Reserved.

CUSTOMER SUPPORT
We are here for you!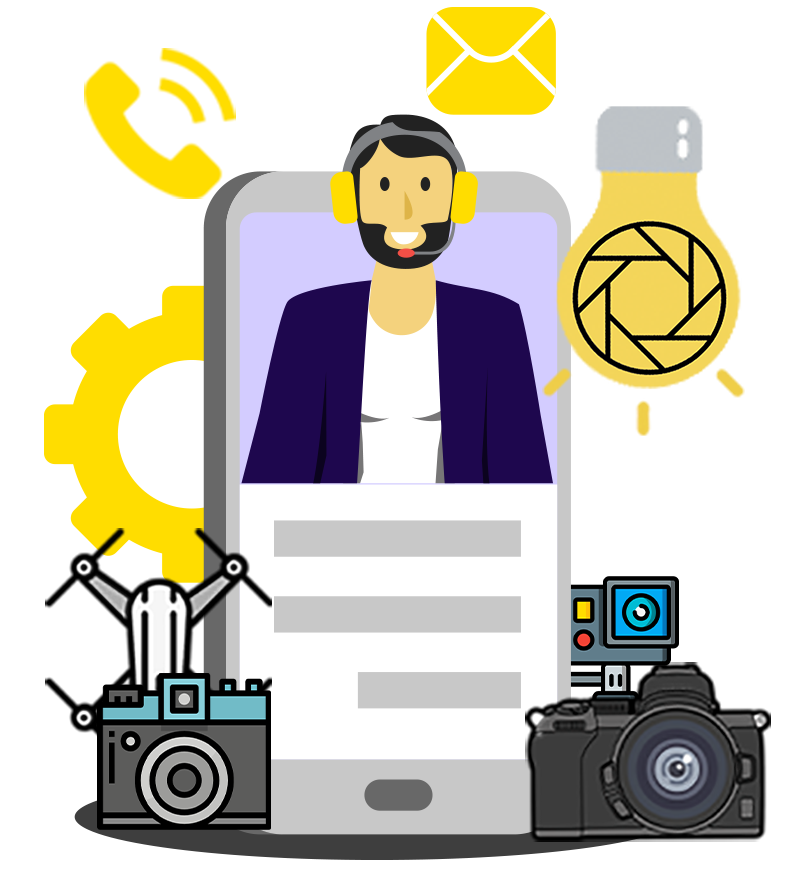 EMAIL US! (CLICK HERE)
CALL US VIA LANDLINE AT:
+63 2 8836 5899
(Monday to Friday from 9am to 3pm)
CALL OR SEND US AN SMS THRU:
Mobile (Smart): +63 968 4494731
Mobile (Globe): +63 977 6269859
Viber: +63 977 6269859
(Monday to Friday from 8am to 5pm)